Temporary Full Expensing
Submitted by: gatherum - 24-Apr-2023
TFE, is due to finish on 30th June 2023!
Find out more about Temporary Full Expensing in this short video where Pat Mannix of Paris Financial explains the in's and out's for eligible businesses.
Can you claim an immediate cost deduction for the business portion of your assets for this year? Click the video to learn more!
Want to chat further with our team about this topic? Feel free to get in touch with our team on: (03) 8393 1000.
...
read more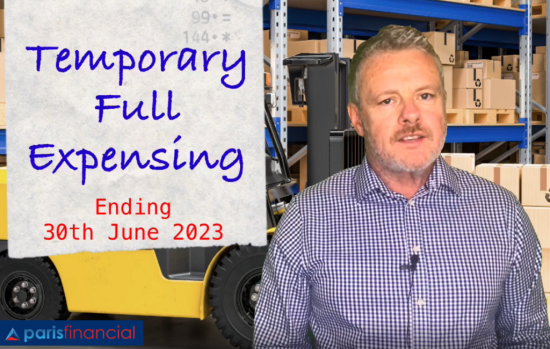 Submitted by: gatherum - 4-Feb-2022
Temporary full expensing ('TFE') provides support for businesses, and it encourages investments. Is your business eligible to claim an immediate tax deduction for the cost of an asset this financial year? Let's look at the impacts of the Temporary Full Expensing rules for small to medium enterprises.
...
read more